So proud to be British
If we Brits can do one thing well, it's throw a party and the Olympics were no exception, says Periwinkle Jones.
Prime Minister David Cameron has spoken of his pride at the way #TeamGB handled the 2012 Olympic games. "It's lifted the whole country, brought people together and it's been a fantastic performance," he said. "I'm very proud of what we've done."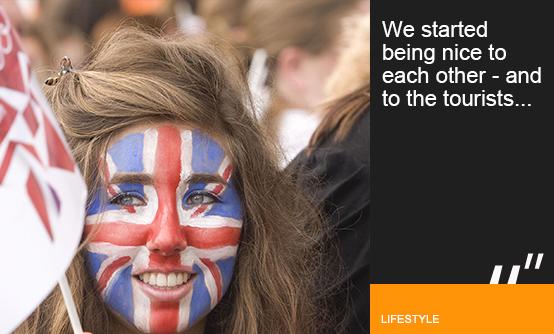 I couldn't agree more.
Not only have our chests swollen with national pride, we've shown the rest of the world that there ain't no party like a #TeamGB party and that Great Britain is still one of the greatest nations on Earth.
The opening ceremony itself was a spectacular comedy romp highlighting the UK's finest exports from Mary Poppins to Mr Bean. Ever the over-achievers, we had the whole thing orchestrated by a top Hollywood director and shipped in top Brits such as Sir Kenneth Branagh, Paul McCartney, Dizzee Rascal and JK Rowling to take part. We even had a cameo from the delectable Daniel Craig alongside his latest Bond Girl – the Queen! Can you imagine any other world leader game enough to take part in a comedy sketch? You could almost hear Prince Phillip guffawing with laughter at the thought.
Some people were out of time and others stumbled over, but the humour and sense of fun shone through.
Alright, there were parts that's seemed to be the nightmarish by-product of a night on the cheese, and some people were out of time and others stumbled over, but the humour and sense of fun shone through. There's no way a slick US or a rigid Asian ceremony could compete.
If that didn't leave you feeling proud to be British, then the performance our girls and boys put in must have. Out of all the countries taking part we came third. Which considering we're a relatively tiny nation of 60million people is an Olympic feat in itself. Thanks to top athletes such as Lizzie Armitstead, Bradley Wiggins, Jess Ennis, Mo Farah, Samantha Murray and Sir Chris Hoy #TeamGB managed to grab 65 medals - including 29 gold, 17 silver and 19 bronze, making 2012 our greatest performance since 1908.
It wasn't just the athletes that did the nation credit: it was Londoners and the rest of the UK who supported the games. We did grumble and moan and wait for it all to go belly up at the start – but could you blame us? After the G4 fiasco, a Korean flag mix-up and news that someone had lost the keys to Wembley, it seemed as though we'd have trouble hosting a drinking contest in a brewery let alone a world class sporting event.
We started being nice to each other – and to tourists!
Yet, in true British style, we found a sense of comradery and started to enjoy ourselves. Twitter almost went into meltdown with the accolades being shouted at our stars while every shop, pub and black cab was festooned with bunting and Union Jacks. We started being nice to each other – and to tourists! We didn't mind the slightly overcrowded public transport system, because it was packed with happy, laughing people draped in flags with their faces painted in their country's colours. The enthusiasm was infectious.
The most heartening thing about the Olympics was the contrast between these past few weeks and the events of August 2011: the London riots. Rather than people lashing out and causing mayhem, there was a real sense of national pride and excitement. You got the real feeling that our national confidence and our faith in each other had been restored.
We can only hope that Rio de Janeiro was taking notes for 2016. If not, I've jotted some pointers below…
1: Have a sense of humour
2: Make sure that the people know it's their games; it'll instil a sense of national pride
3: If in doubt, stick Boris Johnson on a zip wire
What did you think of the 2012 Olympic games? Join the debate on Twitter using the hashtag #socialvoices  

Periwinkle Jones has written for big name brands such as Cosmopolitan, Men's Health and Company both sides of the screen. Picked by Huffington Post as one of Twitter's funniest women she can most often be found there under the moniker @peachesanscream.

Follow Periwinkle Jones on Twitter @peachesanscream
Let us know your views in the comments below. Join the debate on Twitter using the hashtag #socialvoices
Do you want to join our #socialvoices? We're looking for great new writers.
Welcome to #socialvoices. This is the home of sharp writing, opinion and social debate on MSN. Jump into the comments, tweet us with the hashtag. Join in.
No tweets available. Please try again later
Do you like Gaga's new fox blonde hair?
Thanks for being one of the first people to vote. Results will be available soon. Check for results
Yes, she is rocking the ginger dye job

5,517 votes

No, it really doesn't suit her

8,590 votes
Total Responses: 14,107
Not scientifically valid. Results are updated every minute.