Ladies, a little less flesh please
Our love of flashing the flesh when the sun comes out leaves Sophie Robehmed reaching for her sunglasses.
With the sky suffering from a seemingly endless incontinence problem, mind-numbing malaise and an unchangeable grey hue, you'd be forgiven for thinking that the sun had died.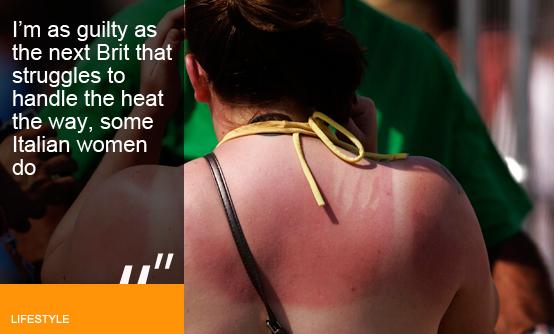 But this week, we are witnessing a resurrection. For now at least. Look! There's a ball of fire in the now Disney blue sky, giving out what can only be described as light and heat. Hallelujah!
Yes, it's hot and we're not used to it
Unfortunately the same praise cannot be given to our hasty approach to flash our bits at the sight of said sun. Yes, it's hot and we're not used to it, so whipping out the summer wardrobe is understandable. But walking around in micro shorts with our bum cheeks hanging out, navigating sweaty cleavages on packed commuter trains and wearing crop tops like Mel C in her Sporty Spice days is not.
It may be warm but it's hardly the Sahara. Of course if this was the Sahara, I'd have no qualms to walk around naked. With no one around, how liberating it would be to be free and as cool as you can be in an average 30ºC heat, slipping, slopping and slapping to avoid intimate burns. But this is civilization and you are walking around with your bare bottom and leaking breasts on display like it's no biggie.
You don't see women in permanently hot countries walking around flashing their loins
I mean, really, who wants to see that? If I handed you a mirror, would you want to look at that? I'm not sure you would and we're talking about your own body here. You don't see women in permanently hot countries walking around flashing their loins as the star of their very own meat market feature film so why do we have to resort to this?
I'm as guilty as the next Brit that struggles to handle the heat the way, say some Italian women do, with the same sophistication, grace and top-to-toe style even when pavements are melting from the strength of the sun. But I do think there is a level of decency that should be maintained and that doesn't involve leaving nothing to the imagination.
So ladies, think before you expose, keep a portable fan in your handbag and savour the moment you can strip off and have a cold shower at home.
Sophie Robehmed is a Devonian Lebanese writer and journalist. A lover, not a fighter. Loves cheese. Searching the world for her doppelgänger.
Follow Sophie on Twitter @sophierobehmed
Do you think British girls need to expose less flesh? Let us know your views in the comments below. Join the debate on Twitter using the hashtag #socialvoices

Do you want to join #socialvoices? We're looking for great new writers.
Welcome to #socialvoices. This is the home of sharp writing, opinion and social debate on MSN. Jump into the comments, tweet us with the hashtag. Join in.
No tweets available. Please try again later
Do you like Gaga's new fox blonde hair?
Thanks for being one of the first people to vote. Results will be available soon. Check for results
Yes, she is rocking the ginger dye job

5,517 votes

No, it really doesn't suit her

8,590 votes
Total Responses: 14,107
Not scientifically valid. Results are updated every minute.