Too many hurdles are being faced by today's female athletes
While British women are leading the way at the Olympics in taking home the medals, Tamara Hinson argues not enough is being done to support our female athletes.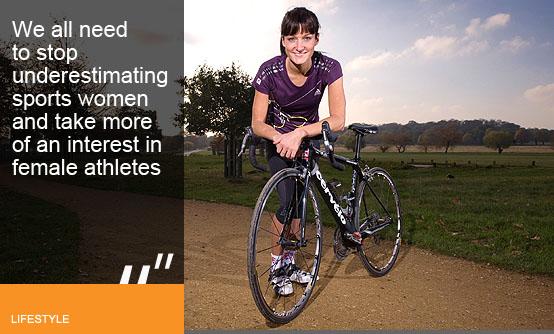 Lizzie Armitstead, who yesterday took silver in the women's road race, has told the Times that as a professional cyclist, it's hard not to become disheartened by the lack of investment in women's cycling, and women's sport in general, pointing out that Sky has poured millions of pounds into the hugely successful men's road team, and imploring those at the top to do more to  promote women athletes in general.
The International Cycling Union's spokesperson Enrico Carpani responded by saying that while the organisation was "doing everything they can" to raise the profile of women's cycling - raising hopes for a women's World Cup - he added that it was unable to force the hand of sponsors.
This would seem to imply that those funding the larger events simply aren't willing to cough up the money required to fund a women's equivalent. And therein lies the problem.
   Often, sponsors simply aren't willing to fund women-only events
Being an athlete is an expensive business, and sponsorship deals are crucial, allowing athletes to spend more time training, and helping to fund major events. And often, sponsors simply aren't willing to fund women-only events because they know that these events simply won't get as much exposure.
In the world of sport, the more impressive feats of endurance are always going to attract more coverage (and thus more sponsorship deals) and quite simply, men are often better at them.
Take the Tour de France for example. Sports physiologists have pointed out that one of the reasons women don't compete in the Tour de France is because they're simply not as physically capable, due to their smaller body mass and decreased strength. Like it or not, men are built differently to women.
In America, male collegiate-level cyclists routinely post times much better than the world's best female riders. Men have, on average, larger hearts, which pump 16 per cent more litres of blood per heartbeat. In addition, they generally have larger lungs, which means that the average man's maximum oxygen consumption is around 25 percent higher than a woman's. In the world of the Olympics, a top male athlete's maximum oxygen consumption is around 10 percent higher than a top female athlete's.
   All-female events are just as exciting as men's
However, as last weekend's Olympic road race proved, all-female events are just as exciting as men's. Despite this, the powers that be have failed to make a women's equivalent of the Tour de France a success. France's Grand Boucle is one example. Organisers of this women's road race struggled to find funding and were forced to hold the various stages of the race in the few towns and cities which were able to contribute money, which meant long transfers in between the stages.

The race was cancelled in 2004 due to "organisational difficulties" and in 2009, several stages were removed before it was announced the race would be discontinued permanently. The two remaining major women's road races were Tour de l'Aude Cycliste Féminin and Route de France Féminine, but the former was cancelled in 2010 and the latter in 2011.
When women's sports are marginalised, perhaps we simply stop believing in the abilities of female sportswomen
While all this suggests that there simply isn't enough interest in some women's sporting events, many point out that the type of situation quickly becomes one vicious, self-perpetuating circle. When women's sports are marginalised, perhaps we simply stop believing in the abilities of female sportswomen and simply don't believe such events will offer the same drama offered by the men's equivalents. 
When swimmer Michael Phelps stormed to victory at the Olympics in Beijing, nobody suggested his stunning performance was cause for suspicion, but this isn't always the case when the situation is reversed.
Yesterday, Chinese swimmer Ye Shiwen smashed the 400m world record by a second and her own personal best by five. Shiwen's time was faster than the time 27-year-old Ryan Lochte had managed minutes earlier in the same event - a time that had earned the American swimmer a gold medal.
However, the story which made the headlines today wasn't Shiwen's stunning achievement but Clare Balding's reaction to the feat. Immediately after the race, Balding asked fellow commentator and swimmer Mark Foster: "How many questions will there be over somebody who can swim so much faster than she has ever swum before?"
The BBC denied Balding was suggesting doping was behind the Chinese swimmer's spectacular feat but the damage was done. And it seems unlikely that Balding would have made such a comment if the competitor in question had been male.
This in itself is a case in point: we all need to stop underestimating sports women and take more of an interest in female athletes. Unfortunately, until those with the cold, hard cash do the same, it looks like little will change. 
Welcome to #socialvoices. This is the home of sharp writing, opinion and social debate on MSN. Jump into the comments, tweet us with the hashtag. Join in.
No tweets available. Please try again later
Do you like Gaga's new fox blonde hair?
Thanks for being one of the first people to vote. Results will be available soon. Check for results
Yes, she is rocking the ginger dye job

5,517 votes

No, it really doesn't suit her

8,589 votes
Total Responses: 14,106
Not scientifically valid. Results are updated every minute.