28 is the sexiest age? Grow up!
According to a survey any woman aged 29 or above is over the sexual hill, #socialvoices writer Bibi Lynch disagrees...
Ladies around the world, here's some fabulous news to wake up to: according to a poll revealed today, a woman's sexiest age is 28. That's right. The survey, conducted by UK company Lil-Lets - as part of their 'What Women Really Think' campaign, suggests any woman aged 29 or above has peaked and is quite literally over the sexual hill. Just like J-Lo here (43), then…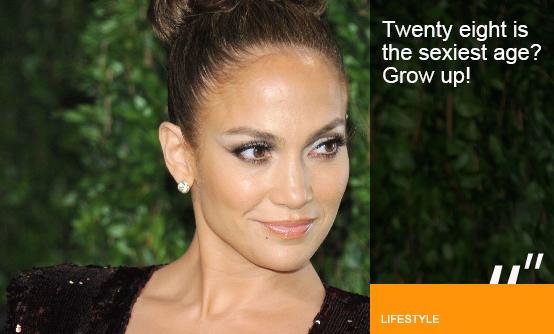 Honestly, how ridiculous. And how insulting. What would the survey suggest every woman who's older than 28 do then? Knit themselves a chastity belt?
At that 'prime' age I was so worried about looking 'right.'
Women can be sexy at any age and at 46 I feel far sexier now than I did at 28. At that 'prime' age I was so worried about looking 'right' and staying in a relationship that wasn't working (ah, foolish youth) I existed on a 'Jack Daniels and Silk Cut' diet that gave me a body where my only curves were my visible vertebrae. Resist that!
And now? Now I eat what I want and have not-unimpressive boobs and a curvy bum. I am in no way saying I'm physically-perfect (can you get bingo wings on your thighs? Let's not discuss that now), but that's not the point. Yes, youth is beautiful — but being happy in your own skin is way more alluring. 
Sexiness isn't just about aesthetics. We've all experienced people who seem genetically superior, yet somehow they still manage to have the sex appeal of a quiche. 
 The brain is where sexy is at.
It's about confidence, experience and knowing what to do with the body's dominant organ. That's right, the brain is where sexy is at. I find it a little depressing that only 13% of the 2,000 women surveyed by Lil-lets cited their brains as their best asset. Intelligence, wit, talent, kindness, humour, an inquisitive mind, interest in others… Aren't those the qualities that make someone completely sexy and irresistible? I think so. But then maybe you have to be older to realise that…
Bibi Lynch is a columnist, writer and broadcaster (for many publications/station​s, including: The Guardian, Grazia and BBC London radio). Londoner. Short.
Follow Bibi on Twitter @bibilynch
Do women become less sexy after 28? Let us know your views in the comments below. Join the debate on Twitter using the hashtag #socialvoices
Do you want to join our #socialvoices? We're looking for great new writers.
Welcome to #socialvoices. This is the home of sharp writing, opinion and social debate on MSN. Jump into the comments, tweet us with the hashtag. Join in.
No tweets available. Please try again later
Do you like Gaga's new fox blonde hair?
Thanks for being one of the first people to vote. Results will be available soon. Check for results
Yes, she is rocking the ginger dye job

5,517 votes

No, it really doesn't suit her

8,590 votes
Total Responses: 14,107
Not scientifically valid. Results are updated every minute.