Kate's been caught sunbathing topless. Should any woman do it in the first place?
Topless pictures of the Duchess of Cambridge have been published in a French newspaper, but should she have put herself in that position in the first place, asks Periwinkle Jones.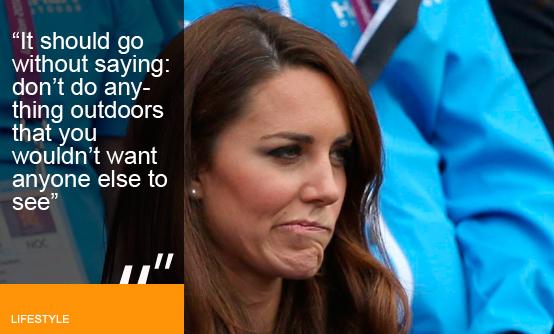 Prince Harry isn't the only Royal to be caught with their jewels on display this month: Buckingham Palace have released a statement saying that they are 'saddened' that French magazine Closer have published topless photos of the Duchess of Cambridge.
The Queen-to-be was papped sunbathing topless while on a holiday with her husband Prince William at the villa of his late great aunt Princess Margaret.
While there's no doubt that the young Royal's privacy has been breached terribly, you have to ask yourself the question: what was Kate doing sunbathing topless in the first place?
"she should know better than to make these sort of careless mistakes"
In the age of the camera phone, the internet and instant news stories, who would be silly enough to put themselves in such a compromising position?
I'm enjoying 'Royal Nudity Month' as much as the next person, but it should go without saying: don't do anything outdoors that you wouldn't want anyone else to see. It's not rocket science: and at 30 Kate is hardly a silly young filly. She would have been put through hours of media training - she should know better than to make these sort of careless mistakes.
"sunbathing topless is a risky business for any woman"
She was hardly lounging in a walled-off garden, she was on a balcony. Making these the second most famous balcony shots of the young Royal.
Sunbathing topless is a risky business for any woman: you have no idea who you're going to bump in to, or who might be taking a sneaky snap of your assets.
A friend of mine was mortified when her husband uploaded the album of their Corfu holiday snaps to Facebook after failing to notice her rubbing tanning oil into her nipples in the background.
"milk-bottle-white boobs tend to fry like eggs in the sun"
Another friend of mine spotted a middle age man staring intently at her as she loosened her bikini top to soak up the sun in the South of France. It took her ten minutes to realise it was her Department Head.
There's also the practical risks: milk-bottle-white boobs tend to fry like eggs in the sun, and there's nothing attractive about two red, glowing beacons strapped to your chest.
I'm not saying you shouldn't sunbathe topless, but you need to weigh up the risk of being seen vs. the benefit of an all-over tan.
As mortified as Kate must be, I bet Harry is delighted that the spotlight is off him at last...
Periwinkle Jones has written for big name brands such as Cosmopolitan, Men's Health and Company both sides of the screen. Picked by Huffington Post as one of Twitter's funniest women she can most often be found there under the moniker @peachesanscream.

Follow Periwinkle Jones on Twitter @peachesanscream
Let us know your views in the comments below. Join the debate on Twitter using the hashtag #socialvoices
Do you want to join our #socialvoices? We're looking for great new writers.

Welcome to #socialvoices. This is the home of sharp writing, opinion and social debate on MSN. Jump into the comments, tweet us with the hashtag. Join in.
No tweets available. Please try again later
Do you like Gaga's new fox blonde hair?
Thanks for being one of the first people to vote. Results will be available soon. Check for results
Yes, she is rocking the ginger dye job

5,517 votes

No, it really doesn't suit her

8,590 votes
Total Responses: 14,107
Not scientifically valid. Results are updated every minute.