Primark's profits are on the increase because we're greedy
Daisy Buchanan argues that Primark's latest profits reflect a nation of consumer addicts that have been prioritising greed above need.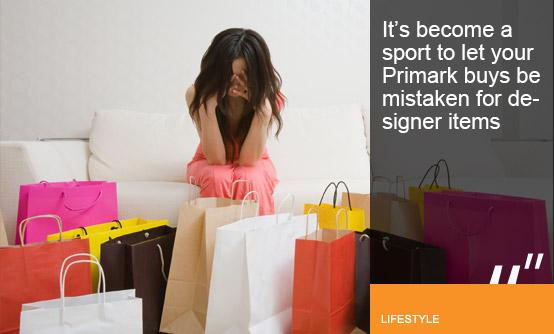 It's been almost a decade since Primark made the leap from being just another cheap clothes shop into a style destination. Amongst fashionistas, it's become a sport to let your Primark buys be mistaken for designer items.
The store has been accused of ripping off labels from Erdem to Monsoon, and it's reliability, when it comes to replicating high-quality look-a-likes has earned it the nickname 'Primarni'. As a nation, we love the shop so much that, thanks to us, its sales figures are up by a recession beating 16%. But just what does this say about us? 


Every single Saturday of the year, Primark stores up and down the country are packed out with bargain-conscious shoppers. Supporters say that Primark is a godsend to families affected by the credit crunch. If you're on a tight budget, you might rely on it for essentials - we all need socks and bedsheets. But thousands of people spend less than £50 and leave Primark with a brand new outfit every single weekend.
You could argue that a trip to Oxfam will salvage your conscience 
Our wardrobes are stuffed with cheap, poorly made clothes that only get worn once or twice. If you're unsure that a dress or pair of shoes is really you, you'll spend the £15 anyway, abandon the item at the bottom of your wardrobe and chuck it out a few months later. You could argue that a trip to Oxfam will salvage your conscience, but many charity shops refuse to take items from Primark because the quality of the garments isn't high enough. 
Primark's profits are on the increase because we're greedy. We've worked our way into a recession by becoming addicted consumers. And if your salary won't stretch to cover designer buys, you can get the same hit from a Primark splurge with relatively little damage to your wallet.
Surely fast fashion is as bad for you as fast food? The occasional cheap treat won't do much damage, as long as it's enjoyed in moderation. But if you only ever eat burgers, you're going to cause yourself some serious long-term health problems. If you pride yourself on never wearing the same outfit twice, you're not showing off your styling skills - you're just good at spending, which isn't really a skill at all.
Perhaps it's time to stop being so proud of your shopping bags 
If you're a self-confessed Primark addict, perhaps it's time to stop being so proud of your shopping bags. Cut back a bit. If you're in there every week, try to go in once a month instead. All those £10s and £20s you're throwing away on cheap frocks add up - you could save the money you're splurging every week to buy one beautiful piece that you'll never want to throw away. Then again, if you can stop shopping for a bit, you might find that you don't need that fashion fix after all. 

Daisy Buchanan writes about anything from feminism to reality telly for Sabotage Times, Vagenda and Huffington Post. She tweets a lot - if you like pictures of rude signs and silly puns, she's @NotRollergirl.

Follow Daisy Buchanan on Twitter @notrollergirl


Let us know your views in the comments below. Join the debate on Twitter using the hashtag #socialvoices
Do you want to join our #socialvoices? We're looking for great new writers.
Welcome to #socialvoices. This is the home of sharp writing, opinion and social debate on MSN. Jump into the comments, tweet us with the hashtag. Join in.
No tweets available. Please try again later
Do you like Gaga's new fox blonde hair?
Thanks for being one of the first people to vote. Results will be available soon. Check for results
Yes, she is rocking the ginger dye job

5,517 votes

No, it really doesn't suit her

8,590 votes
Total Responses: 14,107
Not scientifically valid. Results are updated every minute.