Kate and Naomi: no longer the It girls
There was a time when Kate Moss and Naomi Campbell were members of the elite A-list supermodel crowd. That time was the 1990s, not the closing ceremony of London 2012, says Sophie Robehmed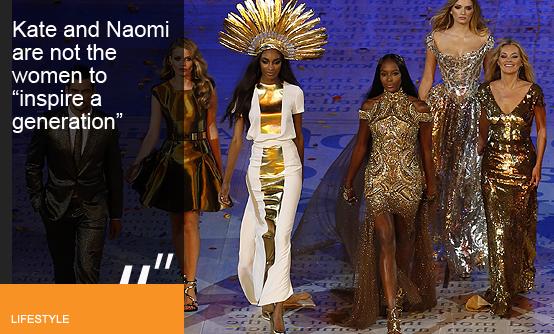 Going by their successful careers, it's easy to see why, although foolishly, Moss and Campbell were chosen to feature alongside the likes of Lily Cole, Georgia May Jagger and Stella Tennant to burst out of blown-up paper images of themselves during a British fashion interlude at last night's ceremony. But in reality, Moss and Campbell did not deserve that spotlight on a worldwide stage.
Moss and Campbell did not deserve that spotlight on a worldwide stage
 
And it seems a lot of Twitter users agree, with the pair's fleeting appearance causing quite the storm that is yet to end.
Even celebrities have got in on the action, from author Jojo Moyes tweeting: "Naomi Campbell: gold medal in phone throwing" to Piers Morgan commenting on Kate Moss's behaviour.

Considering both models are arguably better known for their unhealthy lifestyles (including excessive partying and dangerous diets) and bad-girl behaviour through the years, they are not the women to "inspire a generation". Unlike the driven, disciplined and decidedly healthy athletes that watched these two strut their stuff along the pseudo-catwalk.
They are not the women to "inspire a generation"

The wonderful women that have been all over our television screens from the opening ceremony to last night's finale are the ones to watch – our real role models. Not only do they illustrate how rewarding hard work, representing your country and well-deserved success can be but they embody a clean-living lifestyle, promoting both a balanced diet and positive body image: fit, toned and beautiful bodies that are desirable for the right reasons.
These are exactly the sort of women impressionable young women need growing up instead of size zero slogans like, "Nothing tastes as good as skinny feels", one that Moss has previously glorified, understandably causing widespread outrage.
Thankfully the buzz surrounding Moss and Campbell will inevitably die down soon while the legacy of London 2012 knows no bounds. And that's exactly how it should be.
Welcome to #socialvoices. This is the home of sharp writing, opinion and social debate on MSN. Jump into the comments, tweet us with the hashtag. Join in.
No tweets available. Please try again later
Do you like Gaga's new fox blonde hair?
Thanks for being one of the first people to vote. Results will be available soon. Check for results
Yes, she is rocking the ginger dye job

5,517 votes

No, it really doesn't suit her

8,590 votes
Total Responses: 14,107
Not scientifically valid. Results are updated every minute.