Of course you can be Yahoo's CEO and pregnant
Marissa Mayer, Yahoo's new CEO is pregnant. Why should it matter if she's the best person for the job, says Periwinkle Jones.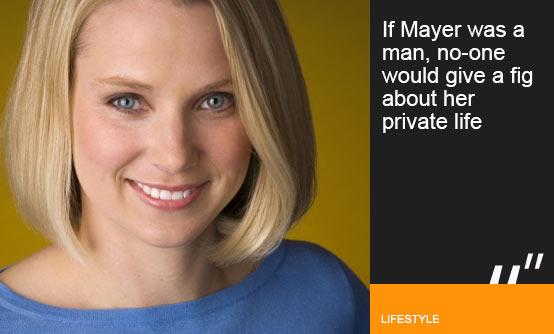 There are two 'shocking' facts about Yahoo's new CEO: she's female and she's pregnant.


It's been less than 24 hours since Yahoo announced its decision to appoint 37-year-old Marissa Mayer as its new CEO, yet already the internet is awash with people questioning whether she is the best person for the job.


I don't see what all the fuss is about: if Yahoo think that Marissa is the best person for the job, she's the best person for the job. It's hardly a decision they're going to take lightly.
They showed their evolved thinking


Marissa didn't hide her pregnancy from her potential employers; she announced it to Yahoo's board of directors, none of whom raised any concerns. "They showed their evolved thinking," she said.

Pregnancy isn't an illness or a condition: it's something women have been doing since the beginning of human history. Statistically speaking, most people will know a pregnant woman at some point in their lives, and 99.9% of these women will be able to converse, function and generally act like productive members of society throughout their pregnancies.

If Mayer was a man, no-one would give a fig about her private life

Marissa Mayer has a pedigree that would leave most nerds drooling: she was Google's first female engineer, she lead the development of Google Images and Google Maps and she's well respected in her field. Sources have quoted Yahoo as being delighted at being able to attract an engineer of her calibre. So why should they have passed up the chance of hiring such a big name just because she's pregnant?
If Marissa Mayer was a man, no-one would give a fig about her private life: 'he' could have a pregnant spouse, a mistress, 12 kids and no-one would question 'his' ability to do 'his' job.


Every company has to make a certain number of sacrifices when they acquire a new hire. In some cases it's a costly relocation package, for others it's healthcare for a large family and in this case the trade-off was that Ms Mayer will be going on maternity leave in October. Something she already seems to have in hand: "My maternity leave will be a few weeks long and I'll work throughout it," she told Fortune magazine.


There's nothing wrong with hiring a pregnant woman to do a job if she's the best candidate. You just have to apply a bit of common sense; obviously it's not going to work out if she's applying to work on a building site or something where she's on her feet all day (unless she feels up to it – then it's her call).


As long as both sides are honest with each other, there's no reason why it shouldn't work. Yahoo seem to be happy with their deal at least.


Should companies hire pregnant women? Join the debate over on Twitter using the hashtag #socialvoices.


Periwinkle Jones has written for big name brands such as Cosmopolitan, Men's Health and Company both sides of the screen. Picked by Huffington Post as one of Twitter's funniest women she can most often be found there under the moniker @peachesanscream.

Follow Periwinkle Jones on Twitter @peachesanscream
Let us know your views in the comments below. Join the debate on Twitter using the hashtag #socialvoices
Do you want to join our #socialvoices? We're looking for great new writers.
Welcome to #socialvoices. This is the home of sharp writing, opinion and social debate on MSN. Jump into the comments, tweet us with the hashtag. Join in.
No tweets available. Please try again later
Do you like Gaga's new fox blonde hair?
Thanks for being one of the first people to vote. Results will be available soon. Check for results
Yes, she is rocking the ginger dye job

5,517 votes

No, it really doesn't suit her

8,590 votes
Total Responses: 14,107
Not scientifically valid. Results are updated every minute.