Different sex, different ball game
The Wimbledon tennis tournament is nearly halfway through and a row has broken out about equal pay between genders.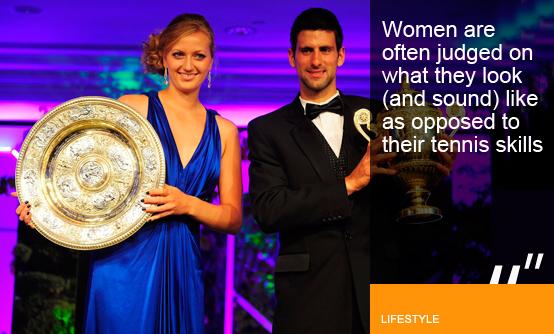 French tennis player Gilles Simon says that women should not have equal pay, which Wimbledon introduced in 2007.
This argument has deep roots. A common superficial protest concerns the time spent on the court. At Wimbledon, men play the best of five sets and women the best of three so men should be paid more, protesters say.
But is this argument fair? The time disparity is discrimination in itself. Consider a boss who hires a man and a woman, puts the man on full time work and the woman on half time and pays them accordingly.
The protest is also irrelevant. Gilles Simon made his comments after he lost a match in straight sets (three) to Xavier Malisse. So he was on the court for the same amount of time as a woman.
I have the feeling that men's tennis is actually more interesting than women's tennis
When challenged with this, he said his comments about pay were nothing to do with time. "It's about the entertainment…I have the feeling that men's tennis is actually more interesting than women's tennis."
Isn't this subjective? And even if men's matches are more popular, is it any wonder when men's tennis is given the prime spot of the tournament, when men's tennis and men's sport in general is given far more coverage in the media, and women are often judged on what they look (and sound) like as opposed to their tennis skills?
As long as women are undervalued and viewed as sex objects, fewer women and girls will be inspired to aspire to greatness. In this unfair context, it's difficult to determine whether men's superior physical performance (and no one is disputing this) is due to nature or nurture.
Women and men should play the same number of sets and wear the same clothes
On the basis of human rights alone, and also for the sake of initiating the drive towards equality, equal pay is essential. But there must be other shifts too, to break down the divisive nature of sports, and I call on sportswomen in particular to lead these campaigns. Women and men should play the same number of sets and wear the same clothes. The organisers must give equal weighting to matches by both sexes. In an ideal world – and we have a long way to go – the media will treat and judge the sexes equally.
And eventually, yes, the women must play against the men – if not in tennis, in other sports in which physical ability is evenly matched. Remember the male wrestler who refused to play against a woman?
We will know we've reached equality when men accept that women can be better than them.
Dr Laura Nelson is a writer, speaker and social entrepreneur. She is the Director of Breakthrough: The Gender Stereotypes Project, runs a blog on political and equality issues and has a doctorate in neuroscience.

Follow Dr Laura Nelson on Twitter @DrLauraNelson
Let us know your views in the comments below. Join the debate on Twitter using the hashtag #socialvoices
Do you want to join our #socialvoices? We're looking for great new writers.
Welcome to #socialvoices. This is the home of sharp writing, opinion and social debate on MSN. Jump into the comments, tweet us with the hashtag. Join in.
No tweets available. Please try again later
Do you like Gaga's new fox blonde hair?
Thanks for being one of the first people to vote. Results will be available soon. Check for results
Yes, she is rocking the ginger dye job

5,517 votes

No, it really doesn't suit her

8,590 votes
Total Responses: 14,107
Not scientifically valid. Results are updated every minute.