Internet trolls - the new menace
Another week, another victim of online abuse
This time it's Olympic swimmer Rebecca Adlington — who has revealed the taunts she's been subjected to on Twitter are so upsetting she's boycotting the social media site while she's competing in London 2012. 'You don't want that added stress', the 23-year-old explained.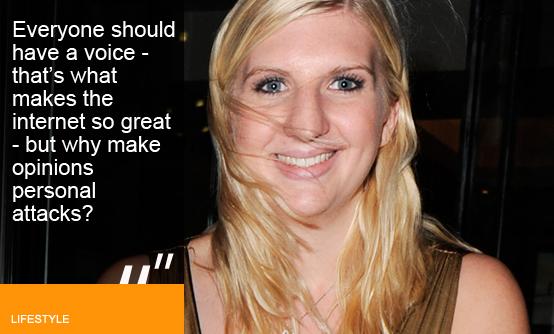 But what are people taunting her about? The quality of Britain's most successful Olympic swimmer in 100 years' strokes? No, her looks. This awesome athlete has already won TWO Olympic Golds and people are abusing her because they don't think she's water babe enough?! 'It is awful.' she says. 'It upsets me or gets me angry… [The comments] are to do with how I look, which has nothing to do with my performance in the pool… I can't help the way I look.'
Her last sentence is heart-breaking. She is a world-beater reduced to not catching your gaze and apologising for her appearance! Britannia has a chance to rule the waves and this is what she gets? Wow. Congratulations, trolls. A bullying Gold for you.
Trolls are vile. I should know. I've been trolled twice.
Trolls are vile. I should know. I've been trolled twice. And the personal attacks are shocking and intrusive — like someone's come to your house to spit in your face. The first time it happened to me I was so upset I actually vomited.
A lot of trolling is sexist (would a male champion be so judged on his looks?) and MP Louise Mensch called it 'misogynistic' (one tweeter said he'd 'love to hit Louise Mensch in the face with a hammer') but my experience is different.
I've mostly been trolled by women. That perhaps makes sense regarding the first trolled article - which was about mums - but the second was about vegetarians. And while we're on that, my "Why you should never trust a vegetarian" feature on here was supposed to be an obviously ridiculously extreme humourous 'opinion'. If a writer equates nut rissoles with war-mongering, I think the tone of the piece is clear.
Female or male, why would people attack in this way? Because it's human nature. There's always been an ugly, braying crowd mentality. Once it was stocks and public executions, now the mass bile explodes online. It doesn't matter how civilised society is, beneath the surface, anger and frustration lies. And if there's a chance to vent, I don't think some of the trolls are even bothered about the 'content' they're attacking. A fight at a football match is as much about a team losing as releasing that week's frustrations.
Online also provides platforms for people to have their say — people who perhaps felt they never had a voice before. And now they have one, boy, do they use it. Especially when they can do it anonymously. If people think there's no fall-out to their words, they can be hideous.
There's also that weird phenomenon of believing people in the public eye (no matter how minorly) have no emotions.
There's also that weird phenomenon of believing people in the public eye (no matter how minorly) have no emotions. They don't seem like 'us', so we take away their feelings. At best they're used as human punchlines; at worst as human punchbags. 
Everyone should have a voice - that's what makes the internet so great - but why make opinions personal attacks? (And @ mention digs are designed to hurt.) That is just bullying — bullying by cowards who feel buoyed by the safety of typing from home but who would never have the guts to be so vicious to their victim's face.
For once I hope such trolling has impacted on the victim. I hope this abuse spurs the brilliant Ms Adlington on to even greater glory. What a woman. Somehow you can't imagine a troll with a medal around their neck, can you? Says a lot.
Bibi Lynch is a columnist, writer and broadcaster (for many publications/station​s, including: The Guardian, Grazia and BBC London radio). Londoner. Short.
Follow Bibi on Twitter @bibilynch
Let us know your views in the comments below. Join the debate on Twitter using the hashtag #socialvoices

Do you want to join our #socialvoices? We're looking for great new writers.
Welcome to #socialvoices. This is the home of sharp writing, opinion and social debate on MSN. Jump into the comments, tweet us with the hashtag. Join in.
No tweets available. Please try again later
Do you like Gaga's new fox blonde hair?
Thanks for being one of the first people to vote. Results will be available soon. Check for results
Yes, she is rocking the ginger dye job

5,517 votes

No, it really doesn't suit her

8,589 votes
Total Responses: 14,106
Not scientifically valid. Results are updated every minute.