Prepare yourselves for a 50 Shades of Grey clothing line...
It's been announced that E.L James will be bringing out a range of 50 Shades of Grey inspired clothing. What's the point, asks Periwinkle Jones
It's official, 50 Shades of Grey: the clothing range will be in the shops by next Christmas.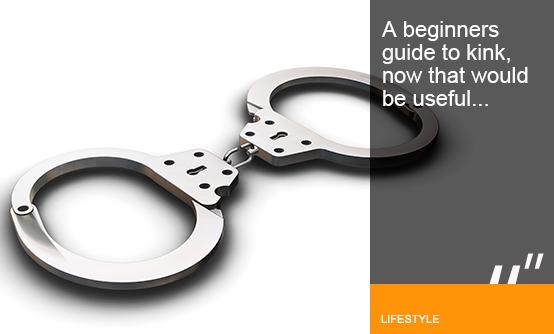 It's said that the range will include nightwear, loungewear (what incidentally is loungewear? Isn't this just clothes? Why do we need special clothes for doing nothing in?), slogan t-shirts and of course, underwear.


Even though the phrase 50 Shades of Grey is a pretty accurate description of my knicker drawer, I'm not buying this latest book tie-in.


It just seems so desperate and money grabbing. And with E.L James raking in a massive £1million a week from book sales alone, it's not like she needs to do this.
Who will buy this stuff? My guess is the same people who buy 'hilarious' penis-shaped novelties from Ann Summers and drink alcopops in an array of colours never seen in nature.


What would the t-shirts even say? "I'm with Dominant", "My other boyfriend has a helipad" or maybe "This isn't any t-shirt. This is an S&M t-shirt".

If only I had a jumper that would inform people that I like to be tied to the bedposts.


Whose idea was this? Are there actually people out there thinking "If only I had a jumper that would inform people that I like to be tied to the bedposts. That would really make my inner goddess happy"?


Call me a prude, but I don't feel the need to splash my sexual peccadilloes across my chest.


Maybe the clothing range will help you live the full 50 Shades experience? The t-shirts could come equipped with tiny tracking devices to replicate Mr Grey's slightly stalkerish tendencies. The arms of the hoodies could tie at the back, and the jeans could have built in butt plugs. Shoes with laces that tie themselves up.
They could specialise in red wall paint, showerheads and wipe-clean furniture.



They could bring out 50 Shades the fragrance: it would smell of money, leather, latex and tears. Or maybe a homeware range: 50 lampshades. They could specialise in red wall paint, showerheads and wipe-clean furniture.


If E.L James really wanted to cash-in on the franchise she could do a food range too. Microwave meals smothered in sauce but with no real meat once you bite into them. Desserts would be trickier though – no vanilla.


It would be different if the clothing range was specialised BDSM* gear – or a beginner's guide to kink kits. That would be useful. But 50 Shades velour will just be tacky. The only liberated thing about wearing a t-shirt declaring that you liked to be spanked is your money from your wallet.


Can you think of any more 50 Shades product spin offs? Let us know on Twitter using the hashtag #socialvoices.
*That's bondage & discipline, domination & submission, for those who didn't know...


Periwinkle Jones has written for big name brands such as Cosmopolitan, Men's Health and Company both sides of the screen. Picked by Huffington Post as one of Twitter's funniest women she can most often be found there under the moniker @peachesanscream.

Follow Periwinkle Jones on Twitter @peachesanscream
Let us know your views in the comments below. Join the debate on Twitter using the hashtag #socialvoices
Do you want to join our #socialvoices? We're looking for great new writers.
Welcome to #socialvoices. This is the home of sharp writing, opinion and social debate on MSN. Jump into the comments, tweet us with the hashtag. Join in.
No tweets available. Please try again later
Do you like Gaga's new fox blonde hair?
Thanks for being one of the first people to vote. Results will be available soon. Check for results
Yes, she is rocking the ginger dye job

5,517 votes

No, it really doesn't suit her

8,590 votes
Total Responses: 14,107
Not scientifically valid. Results are updated every minute.