The Spice Girls are back - at last!
We might be savvy enough to realise that it's probably more the lure of a quick buck than a genuine desire to resurrect Girl Power, but UK women need nothing more than to Spice Up their lives says Periwinkle Jones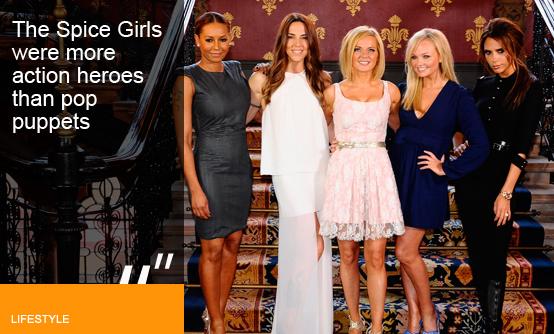 The Spice Girls are back with their musical Viva Forever!: and not a moment too soon. Since the quintet abdicated their thrones in 2001 we've been stuck for some genuinely fun, feisty female role models in popular culture.
Back in the 90's when the fearless five burst onto our screens with their particular brand of zig-a-zig-ah they were supported by a cast of kick-ass females such as Shampoo, Zoe Ball, Sarah Cawood, Buffy, Xena, Shirley Manson, Sara Cox, and Kylie (alright, Kylie is still around, but she's a cyborg…).
But recently the cult of celebrity has taken a turn for the worst – we're peppered with the latest exploits of the over-sexualised and over-exposed Jordan, the sniping TOWIE cast, Waity Katie and a plethora of WAGS. All these women exist and are defined by their relationships to men.  Which is fine, feminism is about being able to make lifestyle choices, but I miss the days when we were given role models we could really sink our teeth into.
They didn't exist for men –they stood for female solidarity, friendship and self-belief 
It's not just real-life celebs who have had the spark airbrushed out of them: women in popular culture can be neatly divided into four camps: the wife/mother, the Zooey 'eye-face' Deschanel Ditsy Indie Girlfriend, the sad and lonely Bridget Jones type or the slightly scary Sex and the City wannabes.
The Spice Girls were more action heroes than pop puppets: they didn't exist for men –they stood for female solidarity, friendship and self-belief. 
'Girl Power' became a term of empowerment and a cultural phenomenon. Scary, Sporty, Ginger, Baby and Non-Smiley Spice told us it was ok to be ambitious and assertive. They made us proud to be British. Heck, Geri Halliwell even became a spokesperson for the United Nations.
Your average girl on the street is more likely to hum along to a Spice Girls song than read Virginia Woolf
And for those who cry 'marketing gimmick': your average girl on the street is more likely to hum along to a Spice Girls song than read Virginia Woolf or Gloria Steinem. If it gets the message across, does it really matter?
2012 heralded the return of strong, powerful women: Pixar's first ever female protagonist in Brave, Snow White and the Hunstsman, Beyonce, Caitlin Moran, Tina Fey, Lady Gaga, The Hunger Games, The Dragon Tattoo and  and Twitter-based grassroots feminist movement AWOT. 
I for one am glad that the Spice Girls have returned to reclaim their crowns and teach a whole new generation it's great to be a girl. 
Are you glad the Spice Girls are back? Join the debate on Twitter with the hashtag #socialvoices.
Periwinkle Jones has written for big name brands such as Cosmopolitan, Men's Health and Company both sides of the screen. Picked by Huffington Post as one of Twitter's funniest women she can most often be found there under the moniker @peachesanscream.
Follow Periwinkle Jones on Twitter @peachesanscream
Let us know your views in the comments below. Join the debate on Twitter using the hashtag #socialvoices

Do you want to join our #socialvoices? We're looking for great new writers.
Welcome to #socialvoices. This is the home of sharp writing, opinion and social debate on MSN. Jump into the comments, tweet us with the hashtag. Join in.
No tweets available. Please try again later
Do you like Gaga's new fox blonde hair?
Thanks for being one of the first people to vote. Results will be available soon. Check for results
Yes, she is rocking the ginger dye job

5,517 votes

No, it really doesn't suit her

8,589 votes
Total Responses: 14,106
Not scientifically valid. Results are updated every minute.