Too old to shop young
Ever been shopping in Topshop and suddenly had the horrendous realisation that you might be too old for it? Bibi Lynch has a frightening experience while out on a spree.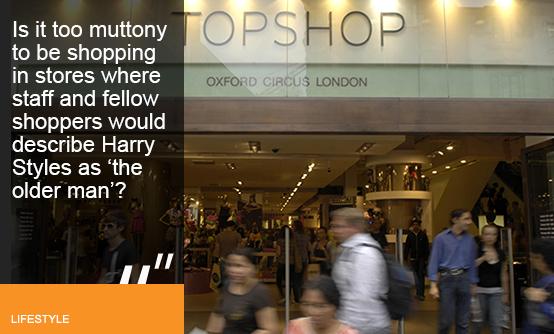 So, London Fashion Week is in full swing. How absolutely fabulous! For five days this great city will is at the centre of the world - again - and we'll all be fashion-crazy! Well, almost all of us.
For somewhere in north London, 46-year-old me will be too scared to hit the rails — unless of course I'm Stannah chair-lifted to M&S's Per Una…
Let me explain. Two weeks ago two teenage boys humiliated me by loudly declaring 'What is she? 97?!' as they brushed past me in a waft of Lynx and Clearasil. My crime? Fingering a vest in 'young' shop American Apparel. (There is more to it. Namely a row with one of the boys over the fitting room queue, but, still…)
Or can we shop wherever we blooming want? Whatever our age?
Mean boys! But are they also 'have a point?' boys? I was absolutely traumatised - I ended up in Sainsbury's comfort-buying doughnuts and gin - but mainly because the little g*ts confirmed what I'd been thinking: 'I'm too old to shop here'.
How depressing is that? But is it true? Is it too crass, too muttony, too 'oldest swingcoater in town', to be shopping in stores where staff and fellow shoppers would describe Harry Styles as 'the older man'?(*Takes a moment to think about Harry*)

If the Lolita shopgirls and 'cut for firm fillies' fits don't destroy you, the dressing room lighting will.

Well, my ego says 'no'. If the Lolita shopgirls and 'cut for firm fillies' fits don't destroy you, the dressing room lighting will. You don't know pain until you've spotted cellulite on a toe.

But my pigheaded, yes, head says 'Shop where you like! You are strong! You are woman! It's 2012! 40 is the new 30! There are no rules anymore! Dame Vivienne would be disgusted by your pathetic attitude!'

My rarely-seen sensible compromising side has the answer, though, I think. I'll have me some Topshop action whenever I want it (why should I be denied, excuse my teen parlance, super on-trend clothes?) but a) I won't look in any mirrors and, b) I'll spend more time in higher-end high street and designer stores for a shopping experience that won't, ironically, set me back 10 years in confidence.
Yes, these shops are more expensive. But when your income isn't just pocket money, boys, you can afford that…
Bibi Lynch is a columnist, writer and broadcaster (for many publications/station​s, including: The Guardian, Grazia and BBC London radio). Londoner. Short. One of the Huffington Post's 'Funniest Women on Twitter'.

Welcome to #socialvoices. This is the home of sharp writing, opinion and social debate on MSN. Jump into the comments, tweet us with the hashtag. Join in.
No tweets available. Please try again later
Do you like Gaga's new fox blonde hair?
Thanks for being one of the first people to vote. Results will be available soon. Check for results
Yes, she is rocking the ginger dye job

5,517 votes

No, it really doesn't suit her

8,590 votes
Total Responses: 14,107
Not scientifically valid. Results are updated every minute.