How sexy is too sexy?
As Rihanna is dropped as the face of skincare giant Nivea because her behaviour is 'allegedly' not appropriate for the brand, Sophie Robehmed looks at the clash of identities.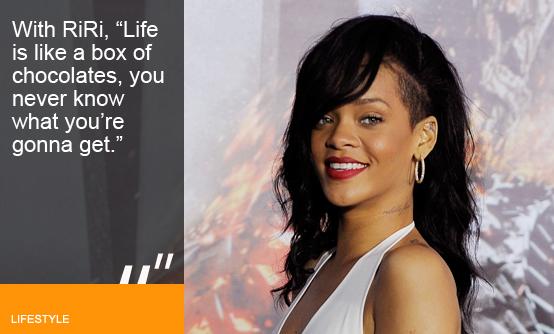 Not many women ooze sex appeal quite like Rihanna so it's surprising that she was ever the face of Nivea, a clean-cut, wholesome skincare brand for all the family. Not so surprising then is that the smokin' hot singer's Nivea advert has been considered too sexy by Stefan Heidenreich, the new head of the company's parent firm, Beiersdorf, who said the advert was a "no go".
But how sexy is too sexy? I think the answer to this question relies entirely on context (i.e. the product and its intended consumers) when it comes to Rihanna being dropped from this particular endorsement gig. I'm sure Jacqueline Gold, Ann Summers' CEO, wouldn't have a problem with Rihanna writhing around on a king-size bed in nothing more than a basque and skimpy silk pants, cracking a whip at men browsing lacy lingerie on the shop floor as a part of her publicity strategy. Well, maybe not quite that scene exactly, but you know what I mean – Rihanna would be a brilliant brand fit – and I'm sure Jacqueline would be a happy bunny (pun intended) if she was fronting her company's advertising campaigns.
But the same can definitely not be said for Stefan, who, sick of her saucy schtick, added: "Nivea is a company, which stands for trust, family and reliability." The man does have a point when you consider in one Nivea ad, a family is seen moisturising while Top 10 hit, California King Bed, plays in the background, a song that sees the 24-year-old star parading in her underwear in front of a half-naked hottie in the original music video.
She is truly one of a kind, with more than enough other megabuck sponsorship deals under her belt
Plus, with RiRi, "Life is like a box of chocolates, you never know what you're gonna get," whether it's her smoking, swearing, suspenders, or most worrying of all, unhealthy gravitation towards her toxic ex, Chris Brown, despite the fact he was convicted for assaulting her three years ago.
But, say what you will about the Barbadian babe, she is truly one of a kind, with more than enough other megabuck sponsorship deals under her belt – and a thick skin to survive essentially what was always going to be an inevitable clash of identities.
Sophie Robehmed is a Devonian Lebanese writer and journalist. A lover, not a fighter. Loves cheese. Searching the world for her doppelgänger.

Follow Sophie on Twitter @sophierobehmed
Do you think British girls need to expose less flesh? Let us know your views in the comments below. Join the debate on Twitter using the hashtag #socialvoices

Do you want to join #socialvoices? We're looking for great new writers.
Welcome to #socialvoices. This is the home of sharp writing, opinion and social debate on MSN. Jump into the comments, tweet us with the hashtag. Join in.
No tweets available. Please try again later
Do you like Gaga's new fox blonde hair?
Thanks for being one of the first people to vote. Results will be available soon. Check for results
Yes, she is rocking the ginger dye job

5,517 votes

No, it really doesn't suit her

8,590 votes
Total Responses: 14,107
Not scientifically valid. Results are updated every minute.