Shwop 'til you drop
Ab Fab actress Joanna Lumley has joined Marks & Spencer to launch their new Shwopping campaign.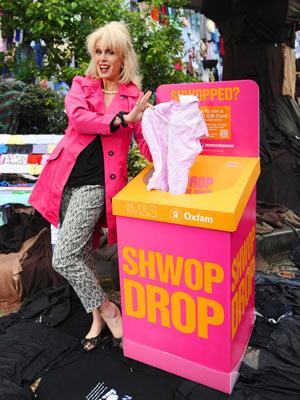 A new M&S initiative aims to revolutionise the way we shop for clothes.  The high street brand has launched a new eco-friendly campaign to encourage shopper's to live more sustainable lifestyles by dropping an unwanted piece of clothing every time they buy a new one.  They can do this through the 1,200 Shwop Drops which are being rolled out across UK M&S stores from today.  The clothes will then be resold, reused or recycled by Oxfam and the money raised will go to help people living in poverty.
Talking about front the Shwopping campaign Joanna Lumley said: "I'm really excited to be working with M&S and have long admired Plan A. Their latest initiative, Shwopping, is all about getting customers to recycle unwanted clothes every time they shop at M&S. It's a big, bold campaign and a first for the high street.
"We're asking people to open their hearts, their minds and their wardrobes. Remember we used to just throw away plastic bottles. Now we recycle them without even thinking about it. We need to do the same with clothing. Bring in something old; buy something new. Swap and shop. It's that simple."
If you want to get involved you can find out more at www.marksandspencer.​com/shwopping
Are you sure you want to delete this comment?
Sarah Hecks

Sarah started her career in journalism over 10 years ago and has since worked for names such as GQ.com and Maxim. She is currently MSN Her's fashion editor in the UK.
Zoe Zahra

Zoe started her writing career eight years ago and has worked for publications such as Tatler and Wallpaper. She is currently deputy editor of MSN Her UK.
Rebecca Bryant

Rebecca graduated with an MA from the London College of Fashion and has since worked for Haymarket and Orange.co.uk. She is currently MSN's shopping editor in the UK.
What did you think of the Duchess of Cambridge's red outfit on day 1 of the royal tour?
Thanks for being one of the first people to vote. Results will be available soon. Check for results
Just lovely - like a modern-day Jackie O

10,178 votes

She looked nice enough - if not a little like an air stewardess!

3,468 votes

Yawn - all her outfits look the same

2,350 votes

Not great - here's hoping she steps up her style game

956 votes
Total Responses: 16,952
Not scientifically valid. Results are updated every minute.